The Best Time to Visit Fort Lauderdale, Florida
When Is the Best Time to Visit Fort Lauderdale?
There are so many things to consider when planning a vacation. Before packing your bags, you have to predict the weather, research local events, and scope out lodging near the attractions in which you're most interested. Beautiful Fort Lauderdale, Florida, is no exception! One question we are frequently asked is: When is the best time to visit Fort Lauderdale? Below, we break down the pros and cons of each season in "The Venice of America" so you don't have to! The best time to visit depends on what you and your family want to experience. For a complete list of insider tips and local recommendations for each time of year, be sure to:
Access Our Free Fort Lauderdale Vacation Guide!
Anytime Is the Best Time to Visit Fort Lauderdale!
Spring
Weather: Warm, Relatively Sunny
It's difficult to pinpoint the perfect time to visit Fort Lauderdale because every season offers gorgeous weather and countless events! However, spring is a popular time due to South Florida's notoriously warm and sunny weather. Spring in Fort Lauderdale is actually quite a bit like summer with highs averaging around 82 and lows averaging around 68.
Activities: Music Festivals
The spring marks the beginning of festival season in South Florida. Highlights of this beautiful time of year include the Las Olas Art Fair, Tortuga Music Festival, and Fort Lauderdale Air Show. By May, the weather in Fort Lauderdale begins to heat up; this is when summer in Fort Lauderdale officially starts.
Summer
Weather: Hot, Occasional Thunderstorms
Since Fort Lauderdale is a sub-tropical city not far from the equator, you should come prepared for extremely high summer temperatures and unpredictable weather. Here in South Florida, thunderstorms can be common in the afternoons. Don't worry, though—the sun always returns with a quickness! Summertime highs average 89 degrees and lows are typically around 76 degrees.
Activities: Beachin' It Up!
The high season in Fort Lauderdale begins in early spring and ends in late summer as families return from summer break. This season brings the warmest temperatures, most beautiful beach days, and biggest crowds to the region. Between May and September, watersports like snorkeling, deep sea fishing, paddleboarding, and jet skiing are most popular. After you've had your fill of fun in the sun, you can attend a lively summer event like the Stonewall Pride Parade (in June) or Hollywood Beach Latin Festival (in August).
Fall
Weather: Warm and Mostly Clear
Any local will tell you that fall is a truly underrated season in Fort Lauderdale. The average high temperature in October here is 85 with lows in the 70s, so it's the perfect weather for getting out and exploring the city! September can bring a few rogue, leftover summer storms, but fall typically features fantastic, sunny weather.
Activities: Harvest Festivities
Fall is a gorgeous time of year to enjoy seasonal events like the Wilton Manors Halloween Experience! You won't see any leaves changing colors here, but you will be able to enjoy a perfect day at the Dania Beach Fishing Pier or take a relaxing stroll along the Fort Lauderdale Riverwalk. Additionally, those who run warmer love that the water temperatures are cooler for a more refreshing swim.
Winter
Weather: Beautiful, Cooler
Winter is when things start to cool off in South Florida. Fort Lauderdale weather in November and December is generally mild and enjoyable with highs in the 70s and lows in the 60s. For most visitors, this is a relief!
Activities: Relaxing and Celebrating the Holiday Season
If you get sick of the cold, come on down and enjoy Christmas on Las Olas or unwind at one of our excellent local spas. The Seminole Hard Rock Winterfest Boat Parade is another landmark winter activity here in Fort Lauderdale! Whatever you choose to do during winter here, we can promise you that you won't freeze.
Check out Lori Bergamotto's Good Morning America feature on visiting Fort Lauderdale this winter!

Stay Near All of the Best Things to Do in Fort Lauderdale!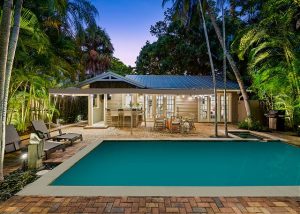 No matter when you decide to travel to "The Venice of America," you'll discover an event or activity that's perfectly suited to your interests. After choosing the best time to visit Fort Lauderdale, you'll need a place to stay! Booking one of our Fort Lauderdale Stays vacation rentals is the easiest way to see the city through the eyes of a local. Our stunning properties are located in peaceful, residential neighborhoods in areas like Fort Lauderdale Beach, Imperial Point, and Wilton Manors. Each property features premium amenities like heated pools, gas grills, spacious patios, and so much more! Why choose a hotel when you can experience privacy, luxury, and a personal touch in one of our beautiful homes?   
Ready for this season's unforgettable beach vacation?
Check o
ur availability today
and get started planning!