Any Fort Lauderdale local will tell you that they live in the poster city for beautiful beaches and impressive yachts. They will also tell you that their city is full of inland gems like the Riverwalk Fort Lauderdale, also known as the Las Olas Riverwalk! At the Riverwalk, Fort Lauderdale's nautical charm and homegrown flair combine to create the ideal location for a stroll. If you're looking to get some walking in, visit a local watering hole, and absorb spectacular views of the glistening Florida waters, be sure to add the Riverwalk Fort Lauderdale to your itinerary!
At Fort Lauderdale Stays, we're committed to making sure you have the most memorable vacation. In addition to visiting the Riverwalk Fort Lauderdale, consider eating at one of our favorite restaurants or pursuing the area's off-the-beaten-path activities. Download our free Vacation Guide to get an inside scoop on the city's best dining, shopping, and adventuring!
About the Riverwalk Fort Lauderdale
Spanning the banks of the New River is the Riverwalk Park of Fort Lauderdale, a waterfront linear green space right off the famous Las Olas Boulevard. Along this historic bank, Native Americans traded and early settlers transported goods. This bustling area came to represent Fort Lauderdale's birthplace. Today, pedestrians enjoy a lush tropical landscape, winding walkways, and plenty of shops on Florida's "most beautiful mile."
What most don't know is that the Riverwalk Fort Lauderdale is more than a public park. It's also a nonprofit initiative to unite the city's centers of recreation. Through hosting diverse events, the Riverwalk harnesses art, history, entertainment, and businesses to create a better city!
Something Fun Year-Round: Riverwalk Fort Lauderdale Events
The Riverwalk Fort Lauderdale is a hub for exciting events! Whether you visit in summer or winter, you'll stumble upon an interesting function. Fall in Fort Lauderdale brings one of the area's most entertaining events: The Riverwalk Fall Festival. Held each year in September, this free, family-friendly celebration in Esplanade Park features carnival games, friendly competitions, face painting, music, and food trucks. All ages and leashed pets are welcome!
Fort Lauderdale's Riverwalk Jazz is another big draw for the area. The park's Jazz Brunch is a great way to spend a relaxing Sunday! This event is held on the first Sunday of each month; everyone is invited to bring their blankets, chairs, and picnic baskets to enjoy the best of local jazz artists. You can't go wrong visiting the Riverwalk Fort Lauderdale any time of year!
Your Tastebuds Will Love the Riverwalk Fort Lauderdale
One of the best parts of Fort Lauderdale's Riverwalk Park is the variety of restaurant options for hungry passersby. Each provides breathtaking waterfront views, a relaxing atmosphere, and tasty bites. ROK BRGR is a laid-back public house that serves up creative comfort food, craft beer, and cocktails. Another favorite is The Pirate Republic, a great choice for seafood, Caribbean-Mediterranean flavors, and live music. It's even rated one of the best waterfront eateries in South Florida! See a Riverwalk Fort Lauderdale map for more.
After eating so much delectable food, you'll have worked up a thirst! Riverwalk Fort Lauderdale bars are just as celebrated, so swing by Rendezvous or Stache Drinking Den & Coffee Bar after your meal for a frothy brew or crisp cocktail.
Stay Close to the Riverwalk in Fort Lauderdale!
Being close to all of Fort Lauderdale's best attractions has never been simpler than staying in one of our stunning Las Olas vacation rentals. In every rental, you'll find everything you could possibly need for your stay. Our amenities include fully stocked kitchens, heated pools, complimentary Starbucks coffee, and much more.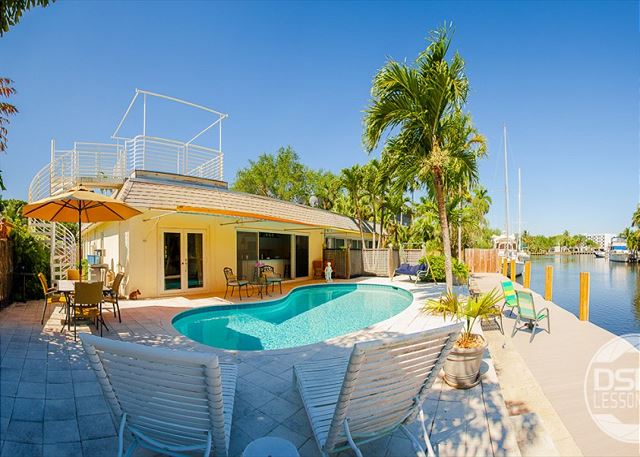 Our Blue Heron Oasis property is the perfect place to spend an extended weekend! After you have a blast on the Riverwalk Fall Festival, you'll be just minutes away from chic comfort. Consequently, you won't have to worry about finding parking at the Riverwalk! This beautiful home sleeps four and offers wide-open views of the city's glistening canals.
We can't wait to see what you discover on the Riverwalk and in the rest of Fort Lauderdale!