Some of Florida's best fishing spots are in Broward County, spanning from Hollywood to Deerfield Beach. Fort Lauderdale is a favorite destination for reeling in some amazing catches! Whether you're looking to get out on the water in a fishing party boat or stay on shore and cast your line from a pier, we know the best Fort Lauderdale fishing locations! Here are some of the best spots to cast your line from the shore. For more great fishing spots and other outdoor activities, download our free Fort Lauderdale Vacation Guide! It features some of the best items to add to your itinerary.
Where to Find the Best Fishing in Fort Lauderdale
Our Favorite Fishing Piers in Fort Lauderdale
Anglin Fishing Pier
The historic Anglin Fishing Pier is one of Broward County's oldest and most familiar landmarks. Originally built in 1941 by the Anglin Family, the pier was rebuilt in 1963. As the longest pier in South Florida, it is a prime location for fishermen (and fisherwomen) to cast their lines. Attached to an eco-friendly beach cafe, this pier is a great destination for a fun day out. Grab lunch at the cafe, then listen to live local music on the patio before wandering down the pier. Anglers have frequented this pier for decades, reeling in snapper, grouper, snook, and mackerel. The area's most famous catch was a 1,040-pound,13-foot hammerhead shark!
Dania Beach Fishing Pier
Open from 6 a.m. to midnight seven days a week, the Dania Beach Fishing Pier is an ideal destination for the early morning or late-night anglers. You can purchase tackle and bait as well as snacks and drinks at the pier if you don't bring your own. If a bag of chips isn't enough to hold you over, a nearby Dania Beach Pier Restaurant called Quarterdeck Neighborhood Grill offers hearty seafood favorites. For a truly open-air lunch experience, bring along a cooler packed with your own delicious bites and dine on the water! As the waves lap against the shore and gulls soar overhead, you'll find that a stress-relieving calm will wash over you here.
After savoring the salty air at the Dania Beach Fishing Pier, walk a few minutes south to the Hollywood Broadwalk. Rent a bike, explore over 30 boutiques and shops, listen to a free concert, and take in the seaside village charm!
Things to Remember Before Visiting This Pier
The Dania Beach Fishing Pier is located between the world-famous Fort Lauderdale Beach and Hollywood Broadwalk. Parking here is metered by the hour. The parking lot is found at the base of the pier and serves the whole pier area, including restaurants and bait shops. The best part about fishing at the Dania Beach Fishing Pier is that a Florida license is not required. The Dania Beach Pier fee is $3 per person.
Plantation Heritage Park
Plantation Heritage Park fishing is a top-rated activity to enjoy in Fort Lauderdale. This longtime park with a lake, fitness trail, disc golf course, and more, features gorgeous scenery along with great fishing. Abundant tropical flowering, breezy palms, and rare fruit tree groves are just a few unique landscapes to enjoy. The lake is your fishing destination, though it requires catch-and-release. Bring your own gear and a freshwater fishing license if you plan on casting your line here!
Deep-Sea Fishing in Fort Lauderdale
Top Spots for Deep-Sea Fishing
The ocean surrounding Fort Lauderdale is one of the few areas in the world where both freshwater and saltwater fishing are available within 20 minutes of one another. Deep-sea fishing can be enjoyed off the coasts of Deerfield, Pompano Beach, and Dania Beach. Each of these spots features excellent fishing conditions! From the hull of a boat, anglers enjoy the crystal-clear waters of the Atlantic Ocean and the beautiful, warm weather for which South Florida is known. There's no better place to cast a line!
Our Recommended Fishing Charters
Flamingo Deep-Sea Fishing
Flamingo Deep-Sea Fishing has been a Fort Lauderdale staple since 1970. This company was named after its featured vessel: A 65-foot, U.S. Coast Guard-inspected fishing boat named The Flamingo. The Flamingo has taken fishermen out to sea for over 40 years, so this company is a great choice for any skill level! Drift fishing charters in Fort Lauderdale are offered through this vendor for $40 per adult and $30 per child (between six and 12 years of age).
Top Shot Sport Fishing
Top Spot Sport Fishing in Fort Lauderdale is another great choice if you're looking to do some deep-sea fishing. Step aboard the charter boat named Happy Day Today and get ready for the ultimate sport fishing experience! This family-owned company has offered charters since 1974. It's a top choice since captains Tom and David Zsak are responsible for 34 local records in South Florida. Reservations are recommended and rates are available on the website.
Bring Your Fish Back to Your Private Vacation Rental!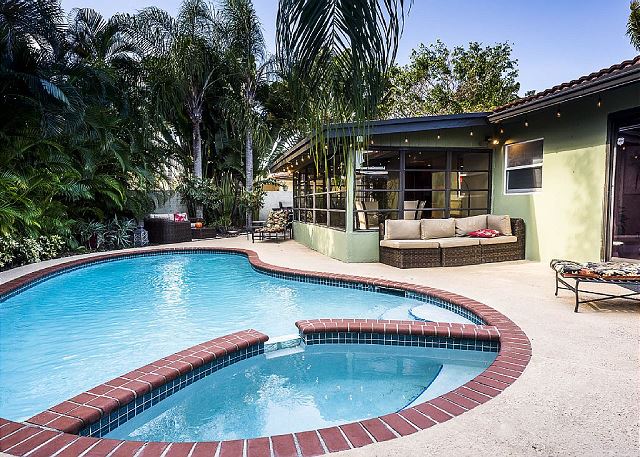 If you want to make use of the fresh fish you caught, why not bring it back to your vacation home for a fry? Many of our Fort Lauderdale vacation homes feature an outdoor patio perfect for entertaining and outdoor dining. The Bermuda Riviera is a guest favorite! It features a gorgeous outdoor dining space overlooking a heated pool and intricately landscaped grounds. The Wilton Bird House is another great spot to host a delicious dinner, featuring a fully equipped kitchen, double wall ovens, and a large outdoor BBQ. No matter which of our rentals you choose, you'll feel like you've landed in your very own tropical paradise!
View all of our properties
to discover your perfect home-away-from-home in Fort Lauderdale! We can't wait to host you.