Still looking for somewhere to spook and be spooked this Halloween? Look no further than Fort Lauderdale, FL. The Wilton Manors neighborhood of Fort Lauderdale is well-known for its lively and fun Halloween experience. A Wilton Manors Halloween is guaranteed to provide visitors with the most unforgettable costume sightings, nightlife, and inclusive atmosphere. We've compiled everything you need to know to make the most of this exciting seasonal event!
Aside from the Wilton Manors Halloween revelry, Fort Lauderdale boasts plenty of things to do in the fall. Visitors can embark on boat tours, go golfing, or even visit an action park! Still need help filling out the rest of your itinerary? Our complimentary Fort Lauderdale Vacation Guide is our hand-picked list of the area's most amazing points of interest. Download it today so you can start looking forward to a legendary Halloween!
Your Ultimate Guide to the Wilton Manors Halloween Experience
About Wicked Manors
Wicked Manors is one of the largest Halloween street festivals in the state of Florida! Hosted by The Pride Center of Fort Lauderdale, this historic block party-style celebration takes place on Halloween night from 7:00 to 11:00 p.m. each year. It brings between 15,000 and 18,000 costumed revelers to the streets of Wilton Manors!
Wicked Manors is free to attend, but donating to The Pride Center is encouraged! Guests can help by donating directly or simply purchasing a drink ticket. Not only is Wicked Manors one of Fort Lauderdale's benchmark events, but it supports a great cause, too! The Pride Center's mission is to provide a welcoming space that celebrates, nurtures, and empowers the LGBTQ community of Fort Lauderdale. Events like Wicked Manors contribute to the distinct cultural, health, and educational efforts of the Pride Center, so you can feel great about attending!
What to Expect at This Year's Wicked Manors
The theme for 2017's Wicked Manors is "Hero Icons," so start putting together your best superhuman garb! Expect to see numerous variations of your favorite comic book and superhero movie characters. There will also be plenty of local food vendors and events taking place on multiple stages. These displays will include drag shows, live music, and contests. Check the Wicked Manors Facebook page for regular updates!
Book Your Wilton Manors Halloween Trip with Fort Lauderdale Stays!
You want to see the Wilton Manors Halloween festivities for yourself, but where will you stay? The answer is simple: A private and luxurious home away from home where you feel welcomed and pampered. Fort Lauderdale Stays manages a variety of gorgeous, upscale homes in the Wilton Manors neighborhood, just right around the corner from the center of town. Our Wilton Manors accommodations are spacious, pet-friendly, and packed with deluxe amenities!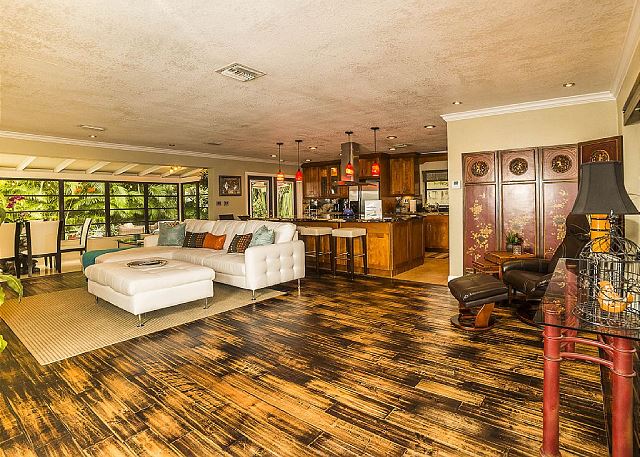 Our Wilton Bird House rental is a beautiful 3-bedroom home perfectly suited for a small group trip to Wicked Manors. Located just off Andrews Avenue and nestled in tropical landscaping, this spacious and eclectic property is near all of the area's beaches, dining, shopping, and nightlife. It's the perfect getaway for those who love privacy or wish to entertain!
Halloween will be here before you know it. Book your getaway now while there's still time!