It's a well-known fact that Fort Lauderdale, FL, is one of the best destinations in the world for warm-weather activities. Here in this fabulous city, you'll find a wealth of water-based attractions including surfing, snorkeling, fishing, and even scuba diving! Fort Lauderdale scuba diving is the most exciting way to spend an afternoon on vacation. Below are a few of our top picks for the ultimate tropical adventure in Fort Lauderdale!
The water may be cool and welcoming, but you'll need to come ashore sometime! For more awesome itinerary ideas like Fort Lauderdale scuba diving, consult our free Fort Lauderdale Vacation Guide! The guide contains an extensive list of the area's best dining, shopping, and local events. Download yours now!
About Fort Lauderdale Scuba Diving
For certified divers or those who want to cross a thrill off their bucket list while they're on vacation, Fort Lauderdale scuba diving is the ultimate adventure. Scuba diving prices in Fort Lauderdale vary, but unforgettable excursions can generally be completed for under $150 per person. Beginners need not worry; scuba diving lessons in Fort Lauderdale are available at most dive shops.
There are plenty of dive sites near Fort Lauderdale, but one of the most popular is Fort Lauderdale's Twin Ledges zone. The diving area is 45 feet-deep diving area and consists of two breathtaking coral reefs located just south of Pompano Beach. Both of the ledges run parallel to the shoreline and feature a huge variety of tropical fish. The best part? If you opt to go Fort Lauderdale scuba diving, you get to see them in person!
Where to Begin Your Deep-Sea Adventure in Fort Lauderdale
Deep Blue Divers, Inc.
Deep Blue Divers, Inc. has been a staple in South Florida for more than 20 years. The school offers students training as well as skill tune-ups for years to come. All of the school's instructors hold the Master Diver Certification, so you're in good hands! We love the "Discover Scuba" package offered for $150 per person which covers an initial pool lesson, all equipment, and a reef dive. For more experienced divers, open water trips and specialty courses are also available.
Sea Experience
Sea Experience in Fort Lauderdale, FL, is a great place to hone your diving skills or discover them for the first time. All levels of experience are welcome to go on dive trips to Twin Ledges with this company. The best part about Sea Experience is that the crew welcomes guest requests for dive site locations. The company's glass-bottom boat tours are a hit, too. Who wouldn't want a bird's eye view of a magical marine wonderland?
South Florida Diving Headquarters
Another option for Fort Lauderdale scuba diving is South Florida Diving Headquarters. This shop offers diving lessons and excursions for all skill levels, but South Florida Diving Headquarters shines in their abundance of local diving knowledge and numerous dive sites. This organization also hosts several exciting events in Fort Lauderdale throughout the year.
Stay in a Vacation Rental Close to Fort Lauderdale Scuba Diving
Since water is at the heart of Fort Lauderdale, you need to stay somewhere close to the canals, beaches, and rivers that define the city. That's why one of Fort Lauderdale Stays' rental properties is perfect for you! Each of our rentals includes boutique amenities like complimentary Starbucks coffee, beach towels, plush linens, and more!
Our 3-bedroom Serenity Place rental home in Imperial Point is just south of Pompano Beach, making it a convenient accommodation for those interested in Fort Lauderdale scuba diving! This well-appointed hidden gem features one king bedroom, two queen bedrooms, a fully stocked kitchen, and a heated pool. What more could you want after a tiring day swimming in the deep?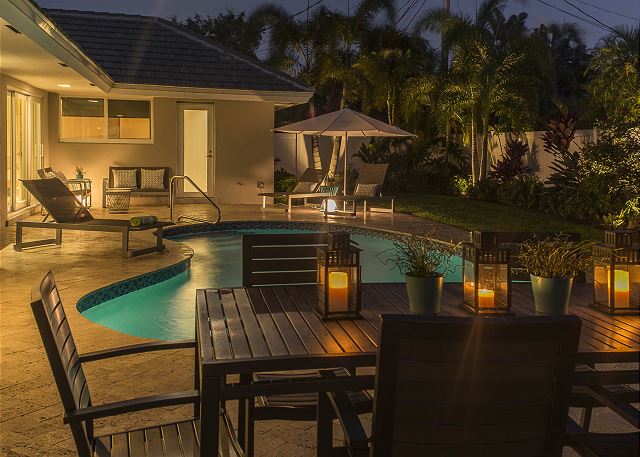 We hope you cross Fort Lauderdale scuba diving off your bucket list soon and come back to comfort at a Fort Lauderdale Stays rental property. Happy exploring!