Fort Lauderdale is a great destination for watersports and beach activities! If you're looking to get a tan while exploring the turquoise waters of Florida, then it's time to book your Fort Lauderdale Stays vacation! You will enjoy a variety of activities perfect for our beachy oasis. These include taking surfing lessons, going on a boating adventure, and enjoying some Pompano Beach snorkeling. Whatever way you want to explore the water, there are plenty of beach activities you will love just minutes away from our vacation rentals!
For more information on what to do during your stay in Fort Lauderdale, you can download our free Vacation Guide. It features a variety of activities, from strolling the arts district to Pompano Beach snorkeling!
Pompano Beach Snorkeling
One of our favorite places to learn more about Pompano Beach snorkeling is the South Florida Diving Headquarters. This great local source features guided tours for diving and snorkeling as well as helpful maps and reef overviews for those looking to venture out on their own. There are several Pompano Beach snorkeling spots offshore that can be reached by swimming or by boat. Just a quarter mile from the sandy beach, some of these great destinations allow you to dive right in. You'll be snorkeling in just 15 minutes at Suzanne's Ledge, the Hall of Fame, and Oakland Ridges, among other snorkeling and dive sites!
Pompano Beach Dive Sites
Along with snorkeling, there are many opportunities for diving along Pompano Beach. Located between Fort Lauderdale and Palm Beach, you will discover some of the best diving in Florida, in fact! The close proximity of a world class wreck and dive reefs makes the Pompano Beach stretch an ideal destination for divers. Take advantage of the great Pompano Beach dive charters and snorkeling outfitters in the area. These include the Pompano Dive Center and Scubatyme Dive Charters.
Drift Diving
Drift diving is a particularly favorite activity along the reef tract. The warm Gulfstream current flows parallel to the shoreline, allowing for flagged divers to be dropped at one location and then picked up down the current stream. Divers can drift until they are ready to surface, and then a boat is there waiting. This is a fantastic opportunity to explore more of the coral reef, taking in more marine life, and enjoy more freedom. You'll get to discover the underwater coastal treasures at your own pace during this stress-free experience.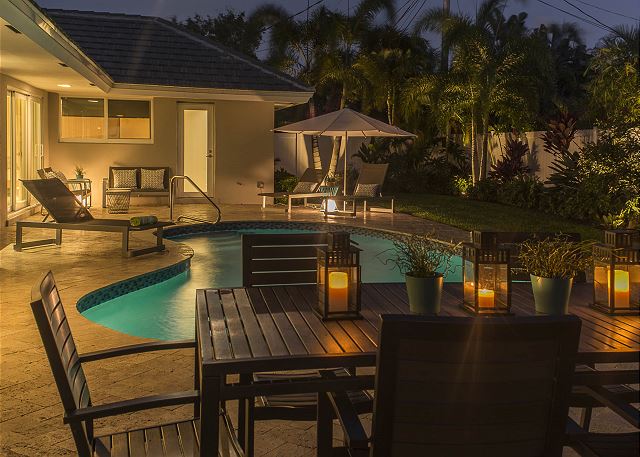 After Your Underwater Adventures, Retreat to Your Vacation Home
Our closest vacation home to Pompano Beach is our Imperial Point home. It is just 10 minutes away from some of the best snorkeling in Fort Lauderdale. Three-bedroom, two-bath Serenity Place is a stunning, modern heated pool home that you will love! The well-appointed Serenity Place features a comfortable king-sized bed and full bath en-suite along with two other guest bedrooms with queen beds. The chef's dream kitchen is fully stocked, while the living spaces feature stylish mid-century furnishings. The backyard is the highlight, however, with a private, fenced-in oasis. The heated pool gets sunshine throughout the day and is lit with lantern and porch lighting by night! Book your Fort Lauderdale Stays getaway today.