.Fort Lauderdale is known for its exquisite dining, unique shopping, and vibrant culture. Most of all, though, it is one of the country's best destinations for fun on the water! Surfing, snorkeling, and charter fishing are just a few of the wonderfully wet attractions found here. If you're looking for an easy, unforgettable experience on the waters of South Florida, look no further than one of these spectacular boat tours in Fort Lauderdale!
From the breezy deck of a boat is arguably the best way to see the sights of Fort Lauderdale, but you must come ashore at some point. Whether you prefer to stay grounded or become a bonafide sea captain, we'll help you plan the perfect getaway! For more information about boat tours in Fort Lauderdale and more of the area's best inland attractions, Download our free Vacation Guide!
Here Are the Top 4 Fort Lauderdale Boat Tours
Cruise the New River on a Riverfront Gondola Tour
A Riverfront Gondola Tour in Fort Lauderdale is the perfect choice for those seeking a serene, smaller-capacity experience. In one of these electric boats, you and up to 5 other passengers will meander up the canals of Fort Lauderdale, lovingly nicknamed the "Venice of America." You'll see luxurious mansions, tropical foliage, exotic birds, iguanas, manatees, and possibly even a few peacocks. The best part about this Fort Lauderdale sightseeing tour is that it is customizable. Complimentary sodas and water are provided aboard; passengers may bring their own food and beverages (including alcohol). Plates, glassware, and napkins are also provided. Certain restaurants even deliver to the boat! Finally, you'll decide what music, if any, plays on your trip.
Host Your Own Event on a Luxurious Yacht
This is no average boat tour in Fort Lauderdale; this is sailing in style! Coastal Yacht Tours offers high-end booking options for any kind of event. Wedding shindigs, corporate get-togethers, cocktail parties, sunset dinner cruises, and sightseeing tours are all perfect occasions to celebrate on the glistening channels of New River and the Intracoastal Waterway. You and up to 11 others will savor the 2, 3, or 4 hours you spend in the 69-foot vessel's elegant, fully furnished quarters. In addition, all Coastal Yacht Tours are private – so you won't have to worry about sharing your experience with strangers. Since this is such an unforgettable way for groups to tour the beautiful Fort Lauderdale shoreline, reservations are recommended.
Carrie B Cruises in Fort Lauderdale: The Perfect In-Between
If fancy gatherings or intimate boat tours in Fort Lauderdale aren't your thing, a tour of Fort Lauderdale aboard the Carrie B is sure to please. Groups of any size can indulge in this trip and children are welcome to join in on the fun. A skilled captain navigates and narrates your New River coastline route, peppered with historic mansions and larger-than-life cruise ships. On this tour, you'll learn all kinds of fun facts about Fort Lauderdale's colorful history! Thirsty? Carrie B has your back: This boat contains a full-service bar! In addition, the air-conditioned, lower level of this spacious riverboat is a great alternative to the exposed upper deck. Wherever you enjoy your hour and a half on the Carrie B, you're sure to have a wonderful time catching amazing views of the rich and famous on Las Olas Boulevard!
Tour Like Royalty on a Jungle Queen Riverboat
As the name might suggest, the Jungle Queen Riverboat is an adventure. The company holds regular 90-minute tours each morning, afternoon, and evening. Longer trips with unique features are also available. At 1:30 p.m. each day, guests attend a sightseeing cruise and tour a nearby "Tropical Isle." There, passengers watch an alligator show, meet lemurs, and get their picture taken with a baby alligator or tropical bird. And if a craving hits, worry not. In addition to the riverboat's snack/drink menu, easy lunch choices like chicken sandwiches are available at the Tropical Isle.
If you and your family are feeling especially adventurous, you'll choose the company's 4-hour option. This special event begins each evening at 6 p.m. and features a buffet-style barbecue dinner. Performers entertain during your meal and a comedy performance follows dinner. This trip also makes a stop at the ever-popular Tropical Isle. Large groups of up to 375 people can also charter the Jungle Queen for an exclusive night of fun!
Vacation on the Water with Fort Lauderdale Stays!
No matter where you stay in Fort Lauderdale, the coastal radiance of a beach or waterway surrounds. In particular, our Las Olas rental properties are perfectly positioned for Fort Lauderdale boat tours! Stay right on the river in the gorgeous 2-bedroom, 2-bathroom Blue Heron Oasis and you'll be just minutes from several of the area's most popular boat tour departure points.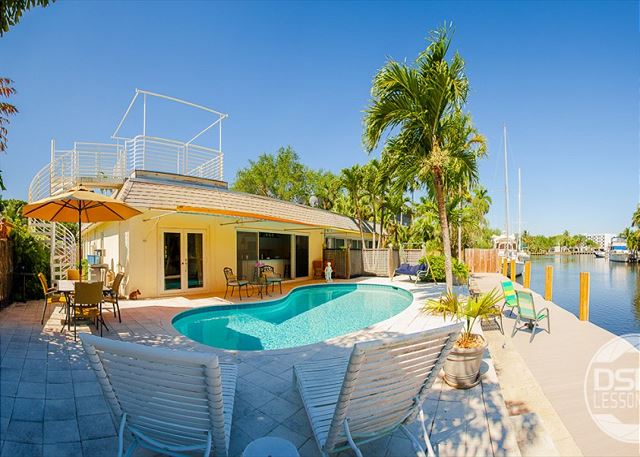 After a day spent cruising the Fort Lauderdale shoreline, you'll come back to the comforts of home. This villa features a heated pool, fully stocked kitchen, and outdoor patio. A gas grill and all of the utensils you'll need are provided. Whether you're searching for an adventurous or relaxing Fort Lauderdale vacation, you can't go wrong pairing a boat tour with a booking at Fort Lauderdale Stays!