Looking for where to stay in Fort Lauderdale for an amazing getaway? The city of Fort Lauderdale is packed with remarkable neighborhoods. Each unique area within "The Venice of America" has its own distinct personality and set of defining features. Whether you prefer walking the beautiful beaches of Fort Lauderdale or taking advantage of the city's one-of-a-kind dining scene, there's a welcoming place to stay in every neighborhood. Below are some of the best areas to stay in Fort Lauderdale! For local insight about the best attractions in each neighborhood, request access to our free Fort Lauderdale Travel Guide! 
Where to Stay in Fort Lauderdale
Fort Lauderdale Beach
Many people come to us wondering about where to stay in Fort Lauderdale on the beach. This neighborhood is perfect for those who just can't get enough sun and sand! On Fort Lauderdale Beach, the ocean and numerous waterfront attractions are just steps away. Here, visitors enjoy easy access to beach shops and unique points of interest like the International Swimming Hall of Fame Museum. The best Fort Lauderdale Beach vacation rentals boast beautiful ocean views, outdoor pools surrounded by lush tropical landscaping and palm trees, fully stocked kitchens, and many other premium amenities. Plus, they're within walking distance of the best South Florida attractions. There's no better place to stay if you're visiting for the city's laid-back, beachy vibe!
Wilton Manors
Just a few miles north of Fort Lauderdale Beach is Wilton Manors. This wonderfully quirky neighborhood offers a unique lodging experience. In Wilton Manors, you'll find plenty of public parks, unique shopping, and local restaurants. Wilton Manors may not offer ocean views, but there are plenty of other attractions worth exploring. Plus, the beautiful beaches and canals of Fort Lauderdale are just a short drive away. While staying in a Wilton Manors vacation rental, be sure to check out great local spots like Rosie's Bar and Grill and the shops along Wilton Drive!
Las Olas
Between downtown Fort Lauderdale and the shores of the Atlantic Ocean is Las Olas, one of the city's most beautiful neighborhoods. A visit to Las Olas allows visitors to see why Fort Lauderdale is known as "The Venice of America." Here, Intracoastal Waterway canals wind through tropical flora. Travel around the area by water taxi and experience the ever-popular Las Olas Boulevard, which offers historic sights, art galleries, waterfront restaurants, and bars.
Our Las Olas vacation rentals offer outdoor heated pools, waterway views, and gorgeous details. Whether you're looking to explore city streets or spend a day aboard a boat, the Las Olas area is a perfect place to stay!
Imperial Point
The Imperial Point neighborhood is located just northeast of Fort Lauderdale (a few miles south of Pompano Beach). This family-friendly area is ideal for a quiet and relaxing getaway. Though tranquil, Imperial Point is close enough to downtown Fort Lauderdale, fun area beaches, and other popular attractions. Our Serenity Place vacation rental is a great choice for those looking to experience the best of Imperial Point. It features three bedrooms, two bathrooms, and lots of local charm!
Poinsettia Heights
Poinsettia Heights, also located a few miles northeast of Fort Lauderdale, is a charming neighborhood with plenty to do. You'll love our beautiful Poinsettia Heights rental homes! Most feature fully equipped kitchens, outdoor patios, and spacious rooms perfect for gatherings. Plus, the area's native foliage will blow you away! You'll feel like you're in a faraway tropical paradise when staying in Poinsettia Heights.
Coral Ridge
Travelers looking for a luxurious retreat to call their home away from home near a championship golf course and sensational shopping and dining will find it all waiting for them in our Coral Ridge rentals. This neighborhood sits within the parameters of the elegant Coral Ridge Country Club and is refreshingly adorned with stunning views, scenic waterways and lush palm trees as well. It's an upscale neighborhood with easy access to on-the-water fun and a perfect match for those who value options to tailor their stay to getaway preferences at every turn.
Coral Shores
Stepping into one of our spacious and inviting rentals located within Coral Shores keeps you steps from Coral Ridge and neatly tucked into one of the most tranquil and welcoming neighborhoods in all of Fort Lauderdale. When you aren't enjoying your home's private pool and amazing views, you'll find you're well within reach of beaches, shopping, and impeccable nightlife. Coral Shores is meticulously maintained and only minutes from downtown when you're looking to expand your itinerary and explore everything there is to see during your stay.
Bermuda Riviera
Just next to the Coral Ridge neighborhood, we're proud to offer guests access to our rentals in the beautiful Bermuda Riviera area. Our homes here balance indoor and outdoor living thanks to a prime location close to the water and a place only 10 minutes from the sand. Property options in this area are inviting and spacious, providing visitors with large windows through which the beauty of the outdoors can come inside at all times. The aesthetic often balances home comforts with Florida-inspired style to make for an even more memorable stay. When you book a rental in Bermuda Riviera, you'll enjoy knowing amazing restaurants and shopping are always close by while the upscale community the neighborhood is tucked into offers up its own comforts and luxuries to savor as well. This destination is fun, welcoming, and scenic—what combination could be better!
Harbor Inlet
When you call one of our rental properties at Harbor Inlet your own during your time in Fort Lauderdale, you'll have every reason to leave stress behind and focus on vacation fun exclusively for a while. Harbor Inlet is a lovely, laid-back, and beautiful destination for travelers to forget the to-do list and escape the hustle of life. This is a well-known and loved neighborhood in the city featuring luxury residences and easy access to activities ranging from fishing and swimming to sailing or simply savoring the views. Rental options here frequently host private pools and outdoor dining sets as well as spacious floor plans, large windows, pet-friendly accommodations, and full kitchens too.
Oakland Park
Situated just west of the Atlantic Ocean, Oakland Park offers up the charm travelers love with easy access to the fun they're looking for too! Oakland Park has a savory reputation built around its many eateries while the downtown area is vibrant and inviting. Whether you're one for shopping or exploring scenic parks, this neighborhood is packed with potential for entertainment. Our rental properties here are meticulously maintained and many host impressive indoor/outdoor lounge areas as well as gourmet kitchens, large bedrooms, easy access to Wi-Fi, and pet-friendly amenities when you're traveling to Florida with a canine companion in tow.
Popular Attractions and Activities Near Our Rentals
Watch the massive cruise ships enter the iconic Port Everglades Cruiseport
Discover Dania Beach
Enjoy the spa and posh restaurants at Pelican Grand Beach Resort
Take a free shuttle around Lauderdale-By-the-Sea
Where to Stay in Fort Lauderdale: Simplified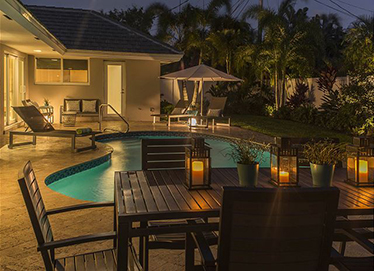 Skip the overcrowded beach hotels in Fort Lauderdale and choose to spend your vacation in a secluded Fort Lauderdale Stays vacation rental. It's the perfect way to experience all of the best areas in and around the city. Each of our gorgeous properties represents the fun, friendly, and welcoming spirit of "The Venice of America." Whether you're looking for a stunning city view or easy access to our sparkling waters, we have a remarkable rental home that's perfect for you and your family.
Ready for the tropical getaway you've been dreaming of? Check our availability today and start planning your trip to Fort Lauderdale!