As a dog owner, you always want to give the best to your furry best friend. That's why you shouldn't leave your dog at home or in a kennel during your next family vacation. Luckily for you, our area offers a long list of dog-friendly Fort Lauderdale attractions, including pet-friendly restaurants, breweries, dog parks, spas, and even unique activities like SUP Pup Paddleboarding!
For more things to do during your Fort Lauderdale getaway, make sure to unlock your free Vacation Guide for exclusive access to a list of the best restaurants, bars, outdoor recreation, museums, shops, and more!

Fetch the Best Dog-Friendly Fort Lauderdale Attractions
Pet-Friendly Restaurants in Fort Lauderdale
Who wouldn't want to enjoy dinner with man's best friend? Fort Lauderdale, FL, offers an array of pet-friendly restaurants in all parts of town. Enjoy your brunch, lunch, dinner, or happy hour, and even ice cream with your furry friend at the best restaurants on the trendy Las Olas Boulevard or Fort Lauderdale Beach at spots with pet-friendly outdoor patios or an outdoor seating area with a gorgeous view. Some dog-friendly restaurants even offer a separate menu for the pups, like at Nauti Dawg's, where your pup can enjoy menu items like chicken breast, bacon, hot dogs, hamburgers, and beef filets! 
Here are some of the best Dog-Friendly Restaurants to Bark About:
Casa Sensei

 

Nauti Dawg Marina Café

 

Park and Ocean at 

Hugh Taylor Birch State Park

 

Shooters on the Intracoastal Waterway

 

YOT Bar & Kitchen

 

Galuppi's

 

Big City Tavern

 

La Bonne Crepe Las Olas

 

Chill-N Nitrogen Ice Cream Fort Lauderdale

 
Pet-Friendly Breweries to Lap Up a Cold Beer At:
Tarpon River Brewing

 

LauderAle

 

26° Brewing Company on Pompano Beach

Dog Parks & Pet-Friendly Parks in Fort Lauderdale
Play fetch at the best parks in Fort Lauderdale! Sniff out the best fire hydrants and tree stumps around town by exploring the many dog parks in the area. You and your four-legged companion can run freely in wide-open spaces like grassy fields and sandy beaches or swim through refreshing ponds. 
Play fetch at these fun Fort Lauderdale dog parks:
Fort Lauderdale Dog Beach/ Canine Beach

 

Bark Park

 at Snyder Park

 

Happy Tails in Plantation

 

Canine Corner in Pompano Beach

 

Dr. Paul's Dog Park in Coral Springs

 

Gary B. Jones Park

 

Barkham Park

 

Dog Beach of Hollywood

 
Pet Spas & Groomers in Fort Lauderdale
What's a vacation without getting pampered? Your dog deserves to look and feel his or her best, too! Fort Lauderdale has a great selection of pet spas and groomers. 
Here are some of our favorites:
Java Cat & Dog Spa

 

Pampered Pooch Salon

 

Foxy Paws Pet Grooming

 

Victoria Park Paw Spa

 
Other Paw-fect Activities
Performance Pups in Dania Beach

 
Pet-Friendly Places to Stay and Play | Stay in a Dog-Friendly Fort Lauderdale Vacation Rental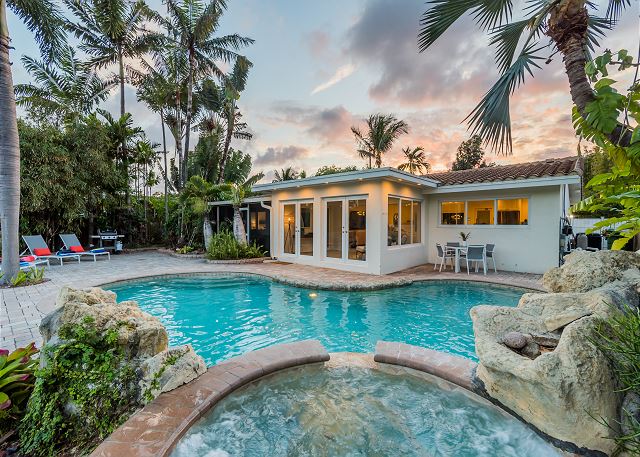 Stay and play with us in Fort Lauderdale! There's no need to keep your pooch cooped up in a room in small pet-friendly hotels when your dog can enjoy the freedom and space of staying in a house. Fort Lauderdale Stays offers a fantastic selection of pet-friendly vacation rentals with stunning waterfront views, private heated pools, full kitchens, and close proximity to dog parks, restaurants, and other pet-friendly attractions. 
Check our availability and start planning the paw-fect getaway!