Fort Lauderdale is a hub for so many different interests. We've got something to please lovers of culture, cuisine, and the coast. But what about lovers of history? There's no shortage of interesting historic landmarks in Fort Lauderdale, but we think the Naval Air Station Fort Lauderdale Museum is the perfect place for history and aviation buffs to spend an afternoon!
Want to get an insider perspective on Fort Lauderdale's best attractions? Download our free Vacation Guide for more information about the city's top-rated museums, tours, and monuments such as the Naval Air Station Fort Lauderdale Museum! We'll also guide you through our favorite restaurants, outdoor attractions, and dining options.
A Hidden Gem
The Naval Air Station Fort Lauderdale Museum is described by locals and visitors alike as a treasured hidden gem of the area. Located just west of the Fort Lauderdale International Airport, the museum is the only building remaining on what used to be a 22-building Fort Lauderdale military base. On a Thursday, Saturday, or Sunday afternoon between 11:30 a.m. and 3:30 p.m., patrons can explore information related to the unsolved Flight 19 mystery, see World War II uniforms, delve into nostalgic photographs, and more. Many travelers heading to and from the airport don't even know this treasure exists! This eclectic museum is also a 100% volunteer-based non-profit organization. Admission is free, but all donations go directly toward preserving the museum and its artifacts. This museum is just one of many free things to do in Fort Lauderdale!
Remnants of World War II
This historic hotspot features a wealth of information and artifacts related to the U.S. Navy during World War II. In addition to the museum's indoor collection of relics, visitors of the museum can walk outside and discover an array of weaponry models used by soldiers of the U.S. Navy in World War II. Knowledgeable tour guides also offer up interesting tidbits about Former President George H.W. Bush's involvement with the military bases near Fort Lauderdale. Airplane enthusiasts in particular will adore the huge collection of model airplanes on display at this engaging spot!
Fun for the Whole Family
Whether someone in the family served in World War II or the kids want to learn more about American history, you can't go wrong visiting this off-the-beaten-path Fort Lauderdale military base! If airplanes aren't your kids' cup of tea, head outside to the museum's Flight 19 memorial. Next to the memorial, you'll find a beautiful and unexpected butterfly garden that the entire family will enjoy!
Lodging Near the Naval Air Station Fort Lauderdale Museum
After a day of historic exploration, come back and reflect at your Fort Lauderdale Stays home away from home! Our Fort Lauderdale Beach rentals are conveniently located less than 20 minutes from both the Fort Lauderdale International Airport and the Naval Air Station Fort Lauderdale Museum. At the end of the day, you can step right out onto the beach and relax! Plus, all of our rentals are equipped with wonderful amenities like Starbucks coffee, smart TVs, and complimentary beach chairs! You'll feel right at home, so book your stay today!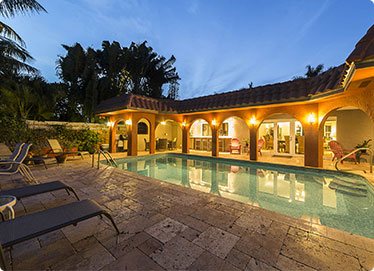 Our Bermuda Riviera is the perfect choice for a family of up to 6 people! This warm and inviting abode is central to everything Fort Lauderdale has to offer. It features a fully stocked kitchen, huge glass windows, and outdoor patio perfect for entertaining. If you're traveling with an infant, there's even a crib on site for you to use.
We hope you enjoy letting your imagination soar at the Naval Air Station Fort Lauderdale Museum and coming back to comfort with us at Fort Lauderdale Stays!