Fort Lauderdale, FL, is known as the "Venice of America" for good reason. Just like its European namesake, Fort Lauderdale is permeated by numerous winding canals and waterways that lead to the ocean. Because of its amazing location, this city is a haven for all things water. Here are three things to do along the Intracoastal Waterway in Fort Lauderdale to get you started!
Where else in the world can you go on a pirate adventure, take a water taxi, become a pro at surfing, deep sea fish and snorkel along a picturesque reef all in one trip? The Intracoastal Waterway in Fort Lauderdale is the best vantage point for seeing the city. If you need help deciding how to enjoy the Waterway first, download our free Fort Lauderdale Vacation Guide. This helpful resource is packed with our best recommendations for water activities, dining, shopping, and nightlife. Get your copy today!
About the Waterway
The Intracoastal Waterway is a 3,000-mile inland water channel that runs along the Eastern United States and into the Atlantic Ocean. It consists of natural inlets, saltwater rivers, and canals. The Waterway aligns perfectly with the coastal city of Fort Lauderdale! When visiting the "Venice of America," you'll notice plenty of tropical foliage as well as mega yachts and mansions along Millionaire's Row. Fort Lauderdale is quite a sight from the Intracoastal Waterway!
3 Amazing Things to Do Along the Intracoastal Waterway in Fort Lauderdale
Explore the Intracoastal Waterway in Fort Lauderdale by Water Taxi
There are so many shops, restaurants, and bars dotting the banks of the Intracoastal Waterway in Fort Lauderdale! If you're trying to get from Point A to Point B, there's no better way to get around than taking an Intracoastal Waterway Water Taxi in Fort Lauderdale. The water taxi takes a variety of routes, including the New River, Fort Lauderdale, and Hollywood Routes. It will also make whistle stops along the way. You can even take the water taxi to nearby cities like Miami for fun day trips! Check out the taxi's online schedule for route details, pricing, and pickup times.
Experience Dining with a View
Fort Lauderdale features a great selection of restaurants right on the Waterway! There's nothing like hopping off a boat and into a dining establishment for a tasty meal. Along the Waterway, you'll find Kaluz, a modern eatery featuring a cushy outdoor lounge. At Kaluz, watch boats dock as you enjoy delectable cuisine such as Slow Roasted Prime Rib or Cedar Plank Salmon! Another option for waterfront dining in Fort Lauderdale is the Blue Moon Fish Company, a favorite seafood spot for traveling foodies. This place has a romantic vibe, fun outdoor deck, and famous Sunday brunch. Thirsty for some waterfront libations? There are bars here, too!
Go On a Fort Lauderdale Boat Tour in Las Olas
The best boat tours in Fort Lauderdale guide guests to the most breathtaking Intracoastal Waterway spots like Las Olas Boulevard. Some of them even take guests to hidden tropical oases! A riverfront cruise in Fort Lauderdale is a wonderful way for first-time visitors to get to know the area. Guests can even dine and enjoy live entertainment aboard some of these vessels. We recommend beginning your South Florida vacation with one of these tours. You'll have an amazing time and emerge much more knowledgeable about the "Venice of America!"
Stay Right on the Intracoastal Waterway in Fort Lauderdale
No matter what you end up doing on your Fort Lauderdale vacation, the coastal radiance of the Intracoastal Waterway will surround you. When you book a stunning rental property with Fort Lauderdale Stays, you receive access to the best possible Intracoastal Waterway views and experiences. Our Las Olas rental properties are right on one of the city's breathtakingly beautiful canals!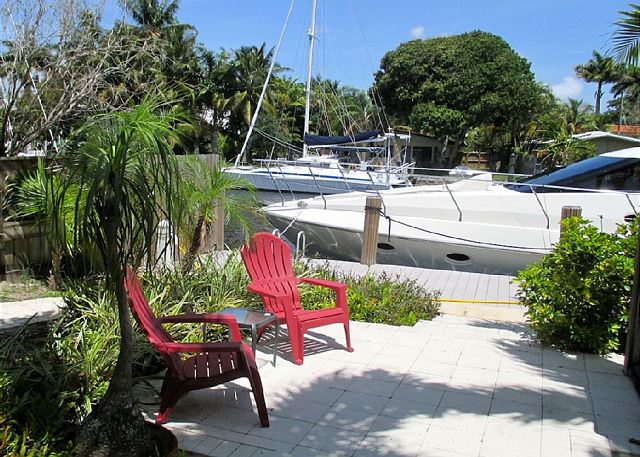 If you're looking for awesome waterfront lodging in Fort Lauderdale, look no further than our Baby Blue Heron rental studio. This 1-bedroom, 1-bathroom oasis features a fully stocked kitchen, outdoor patio with canal views, and an open floor plan.
Book your stay today for the getaway of a lifetime tomorrow. We look forward to hosting you in your own private vacation home!