This winter, escape the cold and enjoy a sunny vacation in South Florida! Fort Lauderdale is one of the best winter holiday destinations with its warm climate and swaying palm trees. Get ready to trade in your chilly white Christmas for sugar-white sand; compared to the Northern United States, Fort Lauderdale is a tropical paradise! You'll soon discover why it's one of the most beautiful places to visit in the winter when you plan a much-needed getaway to the Sunshine State. 
We've compiled just a few of the reasons why you need to experience winter in Fort Lauderdale this year. For a complete list of activities, attractions, and travel recommendations, be sure to check out our free Fort Lauderdale Vacation Guide! 
Warm Winter Vacations USA
: Fort Lauderdale, FL
Tropical Clima
te
While a large portion of the country is covered in a blanket of snow between December and April, Fort Lauderdale is bathed in sunshine! This is why our South Florida oasis is one of the best winter holiday destinations. You can expect sunny days that are warm and dry, with temperatures ranging from the high 50s to the low 80s. Don't forget to pack your bathing suits! 
Outdoor 
Fun
Say goodbye to shoveling snow and hello to sand, sun, and surf. One of the biggest perks of Florida's mild winter weather is the opportunity to spend time outdoors. Head down to Fort Lauderdale's crystal-clear water for snorkeling, paddleboarding, fishing, or surfing. Then, enjoy a lazy afternoon on the beach with your feet in the sand. Other popular outdoor activities include visiting Snyder Park and strolling the famous Riverwalk. 
Festive Events
Vacations in the South aren't complete without attending a few events. If you're planning a winter trip to Fort Lauderdale, there are several fun gatherings to attend—complete with twinkling lights, visits from Santa, and lots of holiday cheer. Some of our favorite ways to celebrate the season include: 
Note: Due to COVID-19 restrictions, be sure to double-check event websites for changes and updates. 
Your Snowbird Getaway Begins Here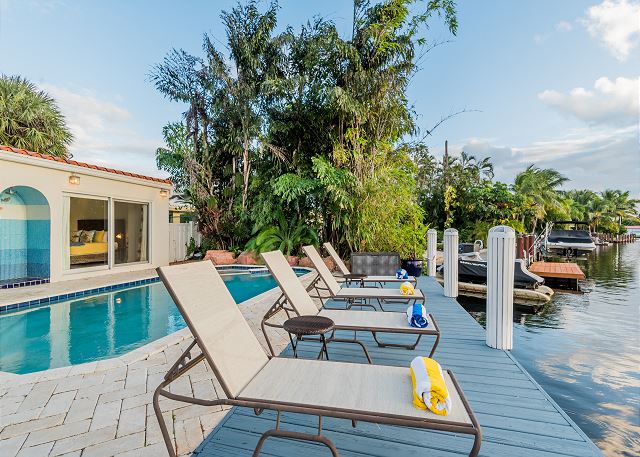 Are you ready to escape the biting cold and see why Fort Lauderdale is one of the best winter vacations for families? Head down to "The Venice of America" for a retreat you won't soon forget! Each of our luxurious vacation rentals features top-of-the-line amenities that will make you feel at home in the Sunshine State. Our guests love having heated pools, sprawling patios, gourmet kitchens, and more. 
If you want to get a little more out of your vacation, consider our concierge services. We offer everything from private chefs to family photography to massage services and acupuncture! Plus, all of our exquisite properties are situated in residential neighborhoods, just steps from the area's top things to do. A winter getaway in paradise is calling! 
Book your winter trip with us now!