While many visitors set their travel sights on Fort Lauderdale for the sun, sand, and surf, they'll also find that this destination is one that's packed with history when you know where to go! The following are a few of the many top historic sites in the area that give modern travelers a great glimpse into the past.
---
Are you searching for more Fort Lauderdale itinerary builders? Check out our ultimate Fort Lauderdale Travel Guide! This FREE guide is packed with local favorites, must-dos for visitors, etc. You won't want to plan your trip without it.
King-Cromartie House
Located at 229 SW 2nd Avenue, the King-Cromartie House dates back to 1907 when it was built by Edwin T. King for his family. King was also the constructionist behind Fort Lauderdale's historic Stranahan House which functioned as the area's first post office, trading post, and hotel. The King-Cromartie House is considered one of the earliest homes in the modern Fort Lauderdale area. King is also credited with building an area school where his wife taught as well as the New River Inn and the first courthouse established in Fort Lauderdale. A second floor was added to the King-Cromartie House in 1911 when King left the home to his daughter Louise and her new husband Bloxham Cromartie. The King-Cromartie family inhabited the residence until 1968, at which time it was donated to the Junior League of Ft. Lauderdale, who saved it from demolition. It was moved to its current location in 1994 and is currently operated by the Fort Lauderdale Historical Society. Visitors can drop by to enjoy tours of the home which is refurbished and outfitted with period clothing and furniture throughout. While many come for the history and to see what early life was like in Fort Lauderdale, others come for the paranormal as this historic site is said to host the ghost of Louise King Cromartie.
Shippey House
Travelers heading to Fort Lauderdale excited to check out as many historic sites as possible will want to be sure to make their way to the Shippey House while they're in town. Located at 220 SW 3rd Avenue, the Shippey House is a 1913 residence that was home to Broward County's second judge. Frederick Beeker Shippey served from 1920 to 1933 when he retired due to illness. He was a prominent member of the Elks Lodge and was passionate about his charitable work aiding disabled children in the area. The home is a testament to the times and was originally slated for demolition in 2008. Fortunately, it was able to be saved and repurposed. After 5 years of renovation, it was reopened to the public in 2016 as the headquarters for Cycle Party Tours, an outdoor recreational company offering sightseeing of the greater Fort Lauderdale house. The home is still set up with beautiful landscaping and an era-specific interior that's well worth checking out!
Historic Walking Tours
Visitors to Fort Lauderdale who are hoping to learn more about the area's history while enjoying a comprehensive overview of historic sites alongside a knowledgeable guide can always sign up for a historic area walking tour through the team at History Fort Lauderdale. These tours are typically 2 hours and take groups of 10 and up on a walking journey along the river to see some of the area's most iconic historical stops. Admission to the tour includes a stroll through the History Museum as well as the Pioneer House Museum and the 1899 Schoolhouse Museum.
Book Today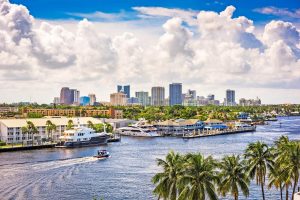 When you're ready to turn travel plans into a reality, Fort Lauderdale Stays has the vacation rental you need to top off your vacation in style. Reach out to learn more about our exciting property options today!