For travelers who can't wait to swap out busy schedules for some well-deserved time under the sun, there's no place quite as inviting as scenic Fort Lauderdale, Florida. Rich in culture, the arts, views, and access to entertainment too, Fort Lauderdale is a destination brimming over with potential no matter what type of trip you're looking to take. Those who have a passion for flavor will find that at just about every turn, Fort Lauderdale delivers up exceptionally tasty options to choose from. Whether it's local fare that inspires you, or you're looking for dishes from far-flung destinations, there's a good chance you'll find your palate-pleasing moment. For adventurers who are looking for the very best of Latin fare during their stay, the following Latin Restaurants are all must-adds to your next delicious itinerary!
Are you searching for more Fort Lauderdale gems? Check out our ultimate Fort Lauderdale Travel Guide! This FREE guide is packed with local favorites, must-dos for visitors, etc. You won't want to plan your trip without it.
Padrino's Cuban
When you're looking for a menu that boasts bold Latin flavors alongside a colorful and friendly setting to enjoy a meal, Padrino's Cuban is the place to be. Located at 1135 N. Federal Highway in Fort Lauderdale, Padrino's Cuban has been a staple in the area since 1976 and is known and loved for their fresh ingredients and innovative approach to flavor profiles. Padrino's Cuban is an inviting family-owned eatery in town where you can order up delicious sandwiches and handcrafted cocktails. The extensive menu of authentic Cuban dishes to enjoy includes options like Lechon Asado, Pan Con Pollo, and Palomilla too!
El Vez Fort Lauderdale
Another great stop to add to your savory agenda in Fort Lauderdale when you're looking to make the most of the best Latin restaurants in town is El Vez Fort Lauderdale. Situated at 401 N. Fort Lauderdale Beach Boulevard, El Vez provides its guests with a festive dining space to settle into before perusing a menu that features mouthwatering Mexican cuisine. Here, a seat in the dining room is always a colorful treat, but it's hard to resist a meal on the spacious patio complete with ocean views. The meu at El Vez showcases everything from mahi mahi tacos and tacos al carbon to ceviches and house guacamoles to enjoy. Top it off with a margarita and you'll be on your way to an amazing meal in good company.
Bohemian Latin Grill
For Latin fare with an innovative twist, be sure to enjoy a meal or two at Bohemian Latin Grill in Fort Lauderdale. This eatery is found at 3341 NE 32nd Street and showcases a spectacular lineup of Latin delights ranging from Cubano bowls and tapas to loaded nachos, tostones, fiesta salads, and fish tacos too. Can't make up your mind? Feel free to go with the Bohemian sampler platter which offers up the best of it all for the entire group to try!
Book Your Fort Lauderdale Stay Today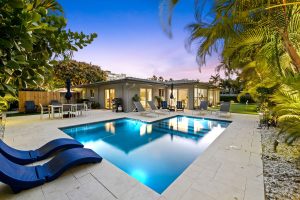 There's never been a better time to make your way to Fort Lauderdale in the name of fun! When you're looking for vacation rental accommodations that infuse style and luxury into your stay, Fort Lauderdale Stays has what you're looking for. Reach out to our team to learn more about our exciting and inviting property options.