With a brand-new year just around the corner, now is the very best time to begin planning your exciting New Year's Eve adventure in Fort Lauderdale, Florida. This sunny, fun, and endlessly inviting vacation destination has much to offer travelers over New Year's Eve no matter what your festive preferences might be. From luxury yacht parties to family-friendly gatherings downtown, Fort Lauderdale is filled with great options for customizing your New Year's Eve experience from start to finish!
---
Check out our ultimate Fort Lauderdale Travel Guide! This FREE guide is packed with local favorites, must-dos for visitors, etc. You won't want to plan your trip without it.
Enjoy the Orange Bowl Downtown Countdown
A top activity to add to your New Year's Eve itinerary when you're headed to Fort Lauderdale is the annual Orange Bowl Downtown Countdown. This beloved New Year's Eve celebration is always a blast and will be hosted on December 31. The fun goes on until 1:00 am on January 1, and there's no cost to attend this vibrant and exciting gathering. Often touted as one of the very best New Year's Eve celebrations in the entire state of Florida, Fort Lauderdale's Orange Bowl Downtown Countdown is a must. Enjoy time at this street festival for children and adults alike which will include family activities between 4:30 pm and 8:30 pm including inflatable slides, face painting, pony rides, and bounce houses as well. There's a special kids New Year's Eve countdown slated for 7:00 pm and live musical entertainment throughout the festival. Be sure to savor plenty of on-site food and beverages before the thrilling anchor drop and countdown to midnight!
Spend New Year's Eve at MODS
If you're enjoying a Fort Lauderdale stay over New Year's Eve with little ones in tow, you'll want to be sure to make plans to participate in the fun that's planned at the Museum of Discovery and Science. Drop by on December 31, where on-site activities and celebrations will be going on into the evening. This annual family-focused event is filled with music, dancing, science, and immersive activities too. Guests are invited to create their own festive party-wear once they arrive and there's a ball drop at noon. New Year's Eve at MODS is made even more convenient with the fact that all of the festivities are included in the cost of a general admission ticket.
Elevate Your New Year's Eve Luxury Factor with a Party Cruise
For those heading to Fort Lauderdale for New Year's Eve with a group of family and friends over the age of 21, feel free to elevate the luxury by booking your ticket for a place on a Musette Yacht Party Cruise. This five-hour sail in style departs at 8:00 pm on December 31, and won't return until 1:00 am. The yacht departs from 510 Southeast 5th Avenue and guests are invited to come dressed in their New Year's Eve best! This is a live it up event on a luxury yacht complete with an onboard buffet and plenty of drinks to enjoy too. This triple decker yacht will be hosting live DJ's, dancing, great photo opportunities, and an open bar as well. Plan on enjoying a Champagne toast at midnight paired with incredible views.
Book Your Ft. Lauderdale Adventure in Style Today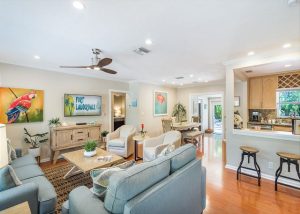 Make it a New Year's Eve to remember and make sure you have amazing accommodations to match by booking your rental through Fort Lauderdale Stays. Reach out today to learn more!