Are you a sports fan whose vacation would be even better if a game was involved? Be sure to check the schedule for Fort Lauderdale Stadium events before you book your stay. The Lockhart Stadium in Fort Lauderdale is a fantastic place to see a soccer match. If you're a fan of the sport, then this is the perfect way to treat yourself and friends during a getaway. Home to the Strikers, the Lockhart Stadium is the perfect place for some thrilling Fort Lauderdale Stadium events. Enjoy an exhilarating match to get your adrenaline pumping and your spirits soaring. It will be a great way to spend part of your vacation!
For more information on outdoor activities and sports to enjoy during your time with Fort Lauderdale Stays, download our free Vacation Guide!
What You Need to Know About Lockhart Stadium
Looking for Fort Lauderdale stadium events to attend during your vacation? Look no further than the premier Lockhart Stadium, a fantastic venue that is home to the local Strikers soccer club. Originally designed for high school football and track, the Lockhart Stadium was built in 1959 as part of a new sports complex. This complex included the local Fort Lauderdale Stadium baseball park and was a popular place to cheer on the local high school team. However, its role as a soccer venue came in 1977, when the Miami Toros relocated to the stadium. At this point, they renamed themselves the Fort Lauderdale Strikers. They are still the resident soccer team here today!
The Fort Lauderdale Strikers
The Fort Lauderdale Strikers are a favorite local team, cheered on by residents and visitors alike. If you're a soccer fan, then you'll love catching a game during your stay. With both a spring and fall season, you can visit at several points throughout the year and still be able to catch a game. Read up on team stats, plan which Lockhart Stadium soccer match you will attend, and then book your friend getaway with Fort Lauderdale Stays.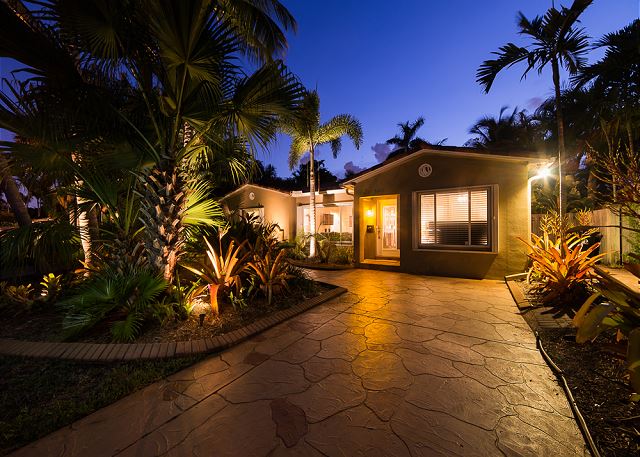 Stay With Us During Fort Lauderdale Stadium Events!
Make it a true friend's getaway when you book a vacation home for the weekend of your favorite sporting event! Our Fort Lauderdale Stays properties feature some pretty fantastic amenities, from beachfront locations to private pools to barbecue grills. You will love spending time with your friends at a private home during your vacation! The Palm Terrace is a great option with 4 bedrooms and 3 baths that sleep up to 8. You'll also enjoy the heated pool, tropical backyard, and gas grill great for cooking out before or after the game. Book your stay with us today!