The city of Fort Lauderdale is simply awash with places to find delicious seafood. After all, how couldn't a city surrounded by beautiful canals, crystal-clear surf, and thriving coral reefs offer amazing bites straight from the sea? Whether you're into shrimp, lobster, crab, or oysters, the best seafood restaurants in Fort Lauderdale will satisfy your oceanic cravings. Below, we've compiled a list of just a few of our favorite selections.
Not in the mood for seafood? Worry not: The dining here is renowned for its wide variety of flavors. Whether you're enjoying a day on the beach or wandering past Las Olas Riverfront Restaurants, you're never far from an amazing eatery. For more suggestions related to the best seafood restaurants in Fort Lauderdale, download our complimentary Fort Lauderdale Vacation Guide! After reading our list of the city's best dining, shopping, and nightlife, you'll have the local insight you need to make the most of your South Florida getaway.
Some of the Best Seafood Restaurants in Fort Lauderdale
Southport Raw Bar
The Southport Raw Bar in Fort Lauderdale is the city's oldest raw bar! One of the best seafood restaurants on the water in Fort Lauderdale, this restaurant is a fun local favorite for Old Bay shrimp, fresh mussels, oysters, and clams. Southport Raw Bar menu items like the dolphin tacos and beer-battered fish and chips are also popular. In addition, this establishment is known for its daily specials, dock-and-dine option, and great happy hour.
Rustic Inn Crabhouse
Interestingly, the Rustic Inn Crabhouse in Fort Lauderdale began as a roadhouse saloon back in 1955. Now, this popular haunt is a bustling seafood restaurant. It serves up steamed crabs, homemade linguini, and other popular dishes like garlic crabs. The Rustic Inn Crabhouse is a favorite for gatherings because of its amazing canal views, outdoor patio, and chic cocktail lounge. After a thoughtfully crafted meal, be sure to indulge in one of the Crabhouse's signature frozen drinks!
15th Street Fisheries
Another award-winning choice for scrumptious local seafood is 15th Street Fisheries in Downtown Fort Lauderdale. This airy dockside eatery can't be missed from afar; it has wraparound windows that provide excellent views of the Port Everglades inlet and twinkling lights along its sprawling roof in the evening. We recommend trying the fruits of the sea platter or miso glazed roasted sea bass for a truly transcendent seafood experience. The 15th Street Fisheries menu also features plenty of appetizers, desserts, and fine wines. Guests can even enjoy their high-quality meal in the upstairs dining room, where the waterfront views are prime.
Coconuts
If you're seeking an easygoing environment with awesome food across the board, try Coconuts. This seafood and Sunday brunch hotspot along the Intracoastal Waterway is beachy-keen! You'll love waking up at your private rental home and going to Coconuts for a delicious brunch. The French toast, chocolate fudge swirl pancakes, and lobster Benedict are all winners.
Experience the City Like a Local with Fort Lauderdale Stays
After enjoying a mouthwatering meal at one of the best seafood restaurants in Fort Lauderdale, come back to your private Fort Lauderdale Stays vacation home to unwind with your loved ones. You'll love our luxurious Fort Lauderdale rental properties, which feature premium amenities like heated pools, gorgeous landscaping, gourmet kitchens, and much more.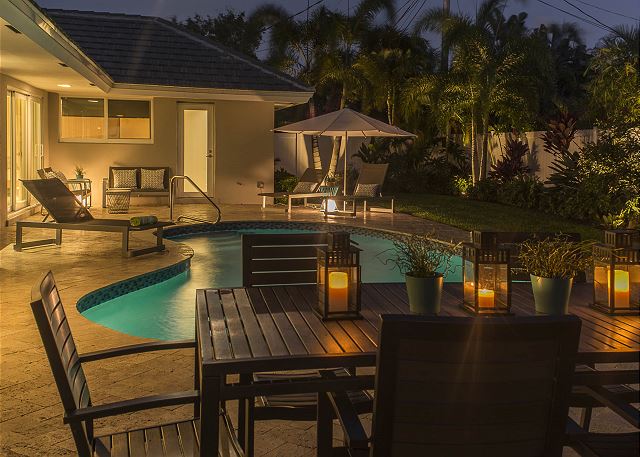 Check our availability and plan your vacation today! Fort Lauderdale's amazing cuisine and Southern hospitality is calling.